First Street Apartments is located at 321 West 1st Street near Oxnard's downtown district and within walking distance to the vibrant city center's cultural arts district, cinemas, and more than 40 International dining options. Downtown offers family-friendly events year-round, including summer concerts, outdoor festivals, art shows, live theatre and holiday parades.
First Street Apartments is also conveniently located within walking distance to the Amtrak/Metrolink Transit Center and shopping.
Listing Price
:

$1,100,000
Assessor Parcel Number:
202-0-051-090
Lot Size:
± 7,000 SF
Building Size:
± 6,176 SF
Number of Units:
8
City of Oxnard Zoning Designation:
R3 (Apartment)
About Oxnard:
The City of Oxnard is located in Ventura County on the southern coast of California, about 60 miles northwest of Los Angeles and 35 miles south of Santa Barbara. It is one of several communities in the fertile Oxnard plain, a scenic region with a diverse economy. The area encompassed by the incorporated city limits is approximately 25 square miles, bounded by the Pacific Ocean to the west, City of Ventura to the north, Camarillo to the east and Port Hueneme to the south. Ventura County's 1,864 square-mile area includes extensive national and state park and forest lands, including the Los Padres National Forest which makes up most of the northern half of the county, and the Channel Islands National Park located off-shore and accessible from both Channel Islands and Ventura Harbors.
Situated along a beautiful stretch of Pacific coastline, Oxnard is the largest city in Ventura County with a population of about 200,000. It is a young community with the median age at 31 years. Oxnard's housing availability is considered among the best in Ventura County and production of both single and multi-family units continues to make this coastal city very attractive.
Sun-bathed Oxnard has outstanding air quality and an ideal year-round climate with comfortable daily temperatures and an average annual temperatures of 51 to 73 degrees. Average rainfall is 14.4 inches per year with the majority falling January through March.
With its patchwork of crops and orchards nestled along a narrow coastal plain, Oxnard boasts some of the richest agricultural land in California. A mix of climate, rich topsoil, adequate water and long harvest season provide favorable conditions for such high-value crops as strawberries. Farmers can often grow double, sometimes triple, crops on the same piece of land during a year.
Business and Industry:
Oxnard is one of the most attractive areas on the central coast for industrial and commercial development. Although agriculture remains a major industry, the U.S. Navy, retail trade, tourism, real estate, manufacturing and industry also serve prominent roles in the regional growth of the Oxnard plain. One of the most important sources of local economic impact is the Oxnard Harbor District, created in 1937 with the mission of managing and developing the commercial deepwater Port of Hueneme. As one of Ventura County's premier economic engines, the Port of Hueneme handles $7.5 billion in cargo value annually, ranking in the top 100 among all U.S. ports.
Naval Base Ventura County is also one of the largest sources of employment in the community with more than 20,000 employees, followed by Boskovich Farms Inc., Oxnard Union High School District, St. John's Regional Medical Center and the City of Oxnard municipal government. Two of the major manufacturers in the community are HAAS Automation and Procter & Gamble Paper Products. The 2010 Median Household Income in Oxnard was $61,316.
What is Nearby?
▪ Oxnard Police & Fire (0.2 Mile)
▪ Transit Center/Amtrak/Metrolink (0.5 Miles)
▪ Downtown Oxnard/Heritage Square (0.7 Miles)
▪ Vallarta Supermarket Center (0.9 Mile)
▪ CVS Drugs Shopping Center (1.2 Mile)
▪ Oxnard Airport (1.9 Miles)
▪ Carriage Square Shopping Center (1.9 Miles)
▪ Centerpoint Mall Shopping Center (2.2 Miles)
▪ U.S. Route 101/Ventura Freeway (3.5 Miles)
▪ Oxnard College (4.2 Miles)
▪ Port of Hueneme/Seabee Naval Base (5 Miles)
▪ Channel Islands Harbor/Beach (5.3 Miles)
▪ Point Mugu Naval Air Station (8.8 Miles)
▪ CSU Channel Islands (10.8 Miles)
About the City of Oxnard:
▪ 60 Miles NW of Los Angeles
▪ 35 Miles South of Santa Barbara
▪ Population: 199,722 (Median Age: 31)
▪ Median Family Household Income: $61,316
▪ Average Daytime Temperature: 73 degrees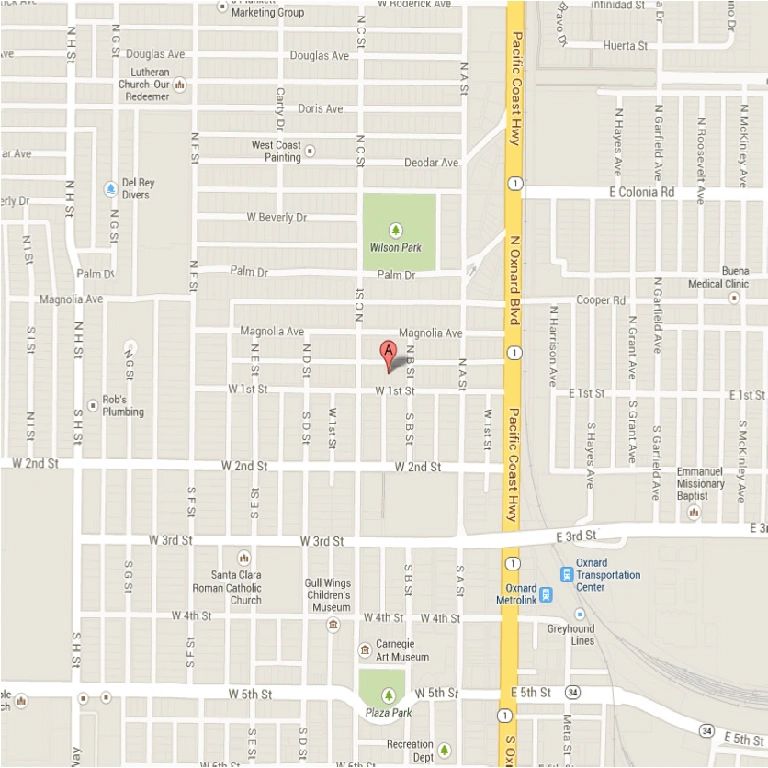 Vicinity Map
Property Photo

Property Photo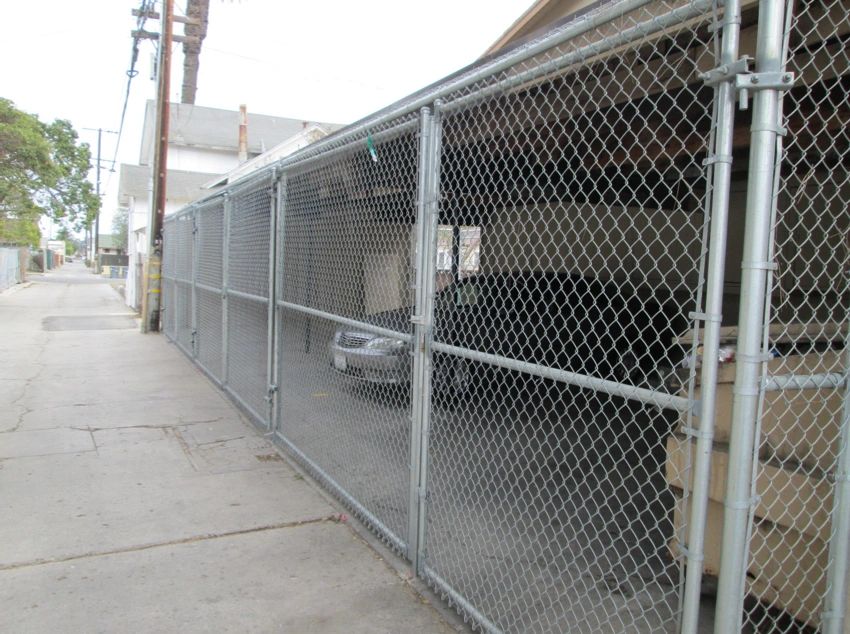 Property Photo



Unit #

Unit Type
Unit SF
Current Rent
Market Rent
Current SF Rent

1

1 Bed / 1 Bath




640

$850

$1,000

$1.33

2

1 Bed / 1 Bath

640




$850

$1,000

$1.33

3

1

Bed / 1 Bath



640


$875

$

1,000




$1.37

4

1

Bed / 1 Bath



640


$875



$

1,000




$1.37

5

1

Bed / 1 Bath



640


$950



$

1,000




$1.48




6

2

Bed / 1 Bath




782




$1,050



$

1,250




$1.34




7

2

Bed / 1 Bath




782



$1,150
$

1,250




$1.44



8

2

Bed / 2 Bath



798

$1,200




1,350

$1.53



Current

Projected

Monthly Rental Income

$7,800
$8,850
Monthly Laundry Income

$263

$263
Total Monthly Income


$8,063




$9,113



Scheduled Gross Income


$96,756




$109,356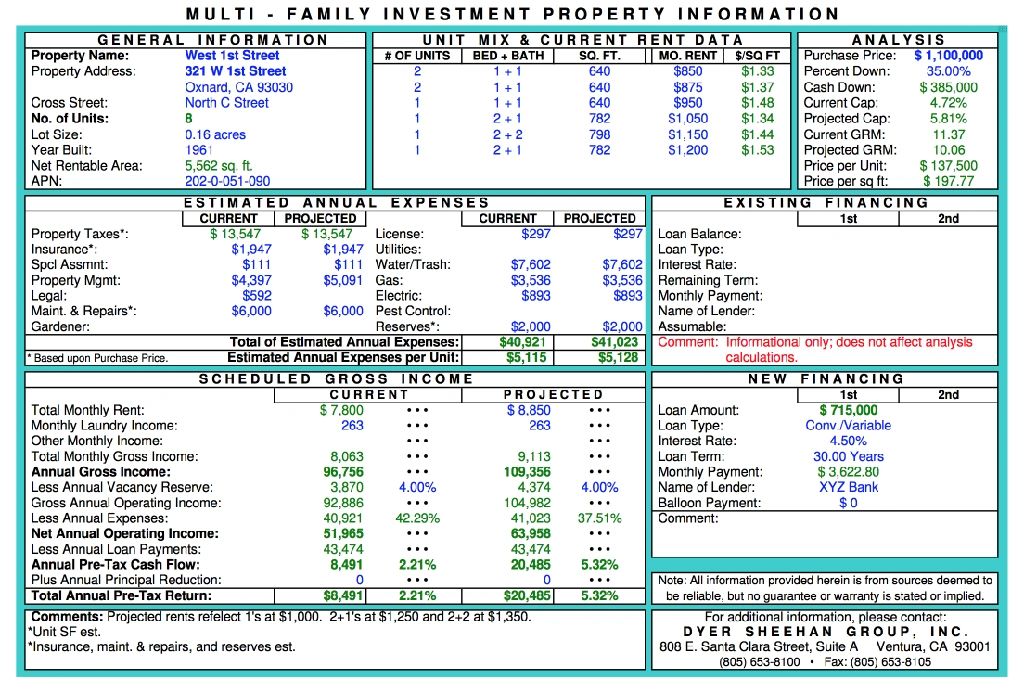 Download the Brochure