The
Fifth Street Apartments
are located at 736 5th Street, approximately 1 mile from Fillmore's downtown area. The property is located within walking distance to various parks and schools, Fillmore High School and are directly across the street from the proposed North Fillmore Specific Plan. This proposed future development includes 350 residential units and a 10 acre park.
Listing Price
:

$875,000.00
Assessor Parcel Number:
052-0-012-090 Lot Size: ± 21,500 SF
Building Size:
± 5,405 SF
Number of Units:
7
Year Built:
1946 Front House – 1955 Cottages City of Fillmore Zoning Designation: R2
About Fillmore:
Named one of "The West's Best Cities" by Sunset Magazine, Fillmore remains one of the last unspoiled small towns in Southern California and continues to embrace its turn of the century, small town atmosphere and old country charm. Nestled in the heart of the Heritage Valley among the citrus groves Fillmore is an eclectic mix of agriculture, history and small industry.
Established in 1888, when the Southern Pacific Railroad was built through the Santa Clara River Valley, the City of Fillmore was incorporated in 1914 and continues to support an agriculture economy.
Business and Industry:
Fillmore's economy is largely driven by agriculture, mainly citrus farming. Avocado orchard farming and packing and crop farming make up the remainder of the area's agriculture industry. Other business in the area relates to tourism and small retail. The town's classic Old Town Central District has many unique shops and businesses, including museums, a local winery, historic train depot and the Fillmore & Western Railway. It is also a popular destination for Hollywood as a location for television and movies.
What is Nearby?
▪ Mt. Vista Elementary School (0.2 Miles)
▪ Delores Day Park (0.3 Miles)
▪ Fillmore High School (0.5 Miles)
▪ Shiell Park (0.6 Miles)
▪ Fillmore Police Department (1 Mile)
▪ Balden Town Center (1 Mile)
▪ Fillmore & Western Railway Co. (1.4 Miles)
▪ Elkins Ranch Golf Course (2.7 Miles)
▪ Santa Paula Airport (10 Miles)
▪ City of Ventura (20 Miles)
▪ City of Valencia/Interstate 5 (20 Miles)
About the City of Fillmore:
▪ 57 Miles North of Los Angeles
▪ 53 Miles SE of Santa Barbara
▪ Population: 15,002 (Median Age: 32)
▪ Median Family Household Income: $58,942
Vicinity Map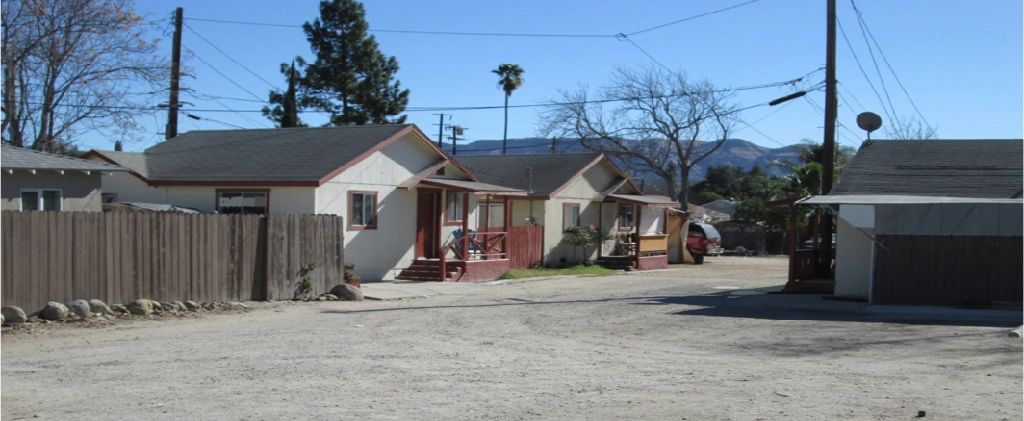 Property Photo

Property Photo

Property Photo


Unit #

Unit Type
Unit SF
Current Rent
Market Rent
Current SF Rent

1

3 Bed / 1 Bath




1,115

$1,300

$1,350

$1.17

2

2 Bed / 1 Bath

715

$1,000

$1,025

$1.40

3

2

Bed / 1 Bath




715




$950

$

1,025




$1.33

4

2

Bed / 1 Bath




715




$950



$

1,025




$1.33

5

2

Bed / 1 Bath




715




$950



$

1,025




$1.33




6

2

Bed / 1 Bath




715




$950



$

1,025




$1.33




7

2

Bed / 1 Bath




715



$1,000
$

1,025




$1.40





Current
Market
Total Monthly Income

$7,100
$7,500
Scheduled Gross Income

$85,200

$90,00
Download the Brochure